MRI Renal cell carcinoma (RCC)
Renal cell carcinoma (RCC), commonly known as kidney cancer, is a malignancy that originates in the cells of the renal tubules within the kidneys. It is the most prevalent type of kidney cancer among adults, constituting approximately 90% of all kidney cancer cases. RCC typically starts as a tumor within the kidney and has the potential to grow and spread over time. There are various subtypes of renal cell carcinoma, with clear cell renal cell carcinoma being the most common. Other subtypes include papillary renal cell carcinoma, chromophobe renal cell carcinoma, and several rare variants.
Causes:
The exact cause of RCC is not entirely understood, but several risk factors have been identified. These include smoking, obesity, high blood pressure, long-term dialysis treatment, and certain occupational exposures to chemicals like trichloroethylene.
Symptoms:
Symptoms of RCC can be nonspecific and may not appear until the disease is advanced. Common signs and symptoms may include:
Blood in the urine (hematuria)
A mass or lump in the side or abdomen
Weight loss
Fever
Hypertension
Night sweats
A general feeling of being unwell
Treatment:
Treatment for renal cell carcinoma typically depends on the stage of the cancer, the patient's overall health, and their personal preferences. Options may include:
Surgery: The mainstay treatment for localized RCC is surgery to remove the kidney (nephrectomy), which can be partial (removing part of the kidney) or radical (removing the entire kidney along with surrounding tissues). Laparoscopic or robot-assisted surgeries may be used to perform these procedures with less impact on the patient.

Targeted Therapy: These drugs target specific pathways or features of cancer cells, such as the blood vessels that supply tumors with nutrients. Medications in this category can slow the progression of the disease or reduce symptoms.

Immunotherapy: These treatments harness the body's immune system to fight cancer cells. Some forms of immunotherapy can be very effective against RCC.

Radiation Therapy: While not often used as a primary treatment for RCC due to the kidney's resistance to radiation, it may be used to alleviate symptoms, especially for metastatic cancer spread to other parts of the body.

Chemotherapy: RCC is generally resistant to chemotherapy, but in some cases, certain drugs may be tried, especially if other treatments are not effective.
MRI appearance of Renal cell carcinoma (RCC)
T1-Weighted (T1W) Imaging: On T1-weighted MR images, RCC can be variable in appearance. Clear cell RCC, the most common subtype, often appears as a solid mass that is iso- to hypointense compared to normal renal parenchyma. Sometimes, clear cell RCC may contain areas of high signal intensity due to intralesional fat or hemorrhage. 
T2-Weighted (T2W) Imaging: RCC generally appears hyperintense on T2-weighted images, although the intensity can vary based on the internal makeup of the tumor. Clear cell RCCs tend to be brighter on T2W images compared to the lower-grade papillary RCCs, which may be more hypointense relative to the clear cell type. Cystic components, necrosis, or hemorrhage within the tumor can also affect the T2 signal.
Short Tau Inversion Recovery (STIR) Imaging: The STIR sequence is helpful in suppressing the signal from fat, which can help in differentiating the tumor from surrounding fatty tissues. RCC can appear hyperintense on STIR images, but the degree of intensity can be affected by the presence of edema, cystic changes, or necrosis within the tumor.
Diffusion-Weighted Imaging (DWI): DWI exploits the differences in the diffusion of water molecules within tissue. RCC often appears hyperintense on high b-value DWI images and shows corresponding low apparent diffusion coefficient (ADC) values, indicating restricted diffusion, which can be due to the cellularity of the tumor. DWI is particularly useful in differentiating RCC from simple renal cysts, which would appear hypointense with high ADC values.
Post-Contrast Appearance: Contrast-enhanced MRI is valuable in evaluating RCC. After the administration of gadolinium-based contrast agents, clear cell RCCs usually show early, intense, and heterogeneous enhancement, while papillary RCCs tend to show less enhancement. Contrast-enhanced scans can also help delineate tumor margins, detect enhancement within renal cysts to rule out complex cystic RCC, and identify the involvement of renal veins or the inferior vena cava in more advanced disease.
T2 TRUEFISP coronal image shows Renal cell carcinoma (RCC)
T1 VIBE coronal image shows Renal cell carcinoma (RCC)
T2 TRUEFISP axial image shows Renal cell carcinoma (RCC)
T2 TRUEFISP fat sat axial image shows Renal cell carcinoma (RCC)
T1 VIBE axial image shows Renal cell carcinoma (RCC)
T1 in-phase axial image shows Renal cell carcinoma (RCC)
T1 out-of-phase axial image shows Renal cell carcinoma (RCC)
T1 VIBE coronal post contrast image shows Renal cell carcinoma (RCC)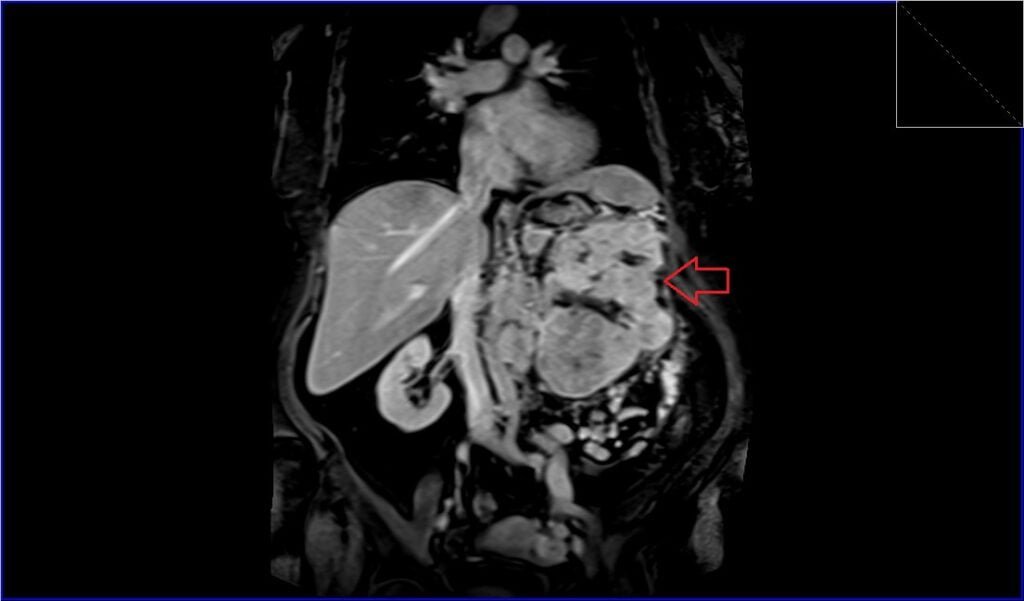 T1 VIBE axial post contrast image shows Renal cell carcinoma (RCC)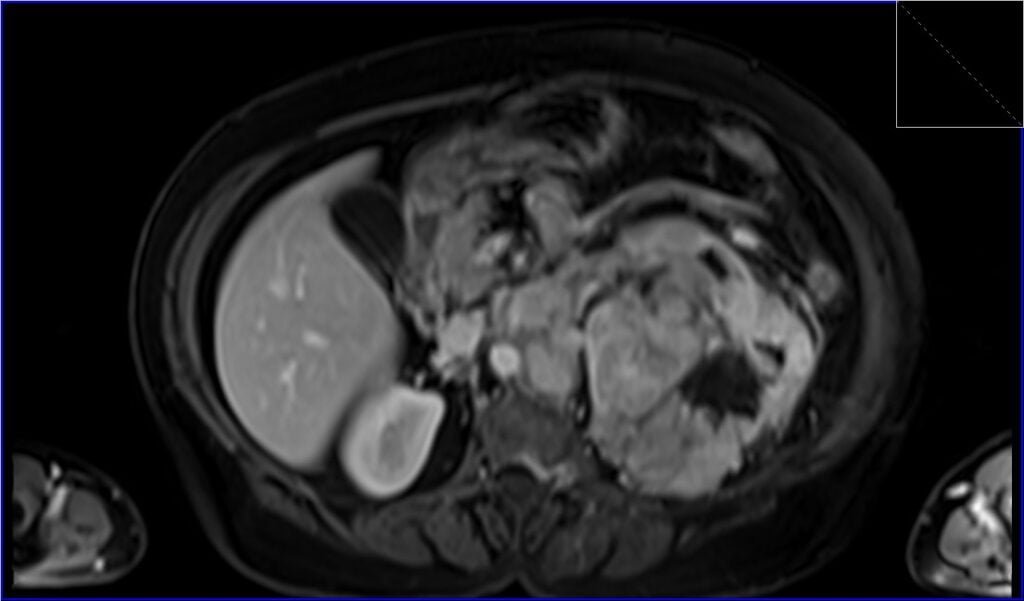 Vogel, C., Ziegelmüller, B., Ljungberg, B., Bensalah, K., Bex, A., Canfield, S., Giles, R. H., Hora, M., Kuczyk, M. A., Merseburger, A. S., Powles, T., Albiges, L., Stewart, F., Volpe, A., Graser, A., Schlemmer, M., Yuan, C., Lam, T., & Staehler, M. (2019). Imaging in Suspected Renal-Cell Carcinoma: Systematic Review. Comparative Study Clin Genitourin Cancer, 17(2), e345-e355.
Gurel S, Narra V, Elsayes KM, Siegel CL, Chen ZE, Brown JJ. Subtypes of renal cell carcinoma: MRI and pathological features. Diagn Interv Radiol. 2013 Jul-Aug;19(4):304-11. doi: 10.5152/dir.2013.147. PMID: 23439256.
Wang, W., Cao, K., Jin, S., Zhu, X., Ding, J., & Peng, W. (2020). Differentiation of renal cell carcinoma subtypes through MRI-based radiomics analysis. Eur Radiol, 30(10), 5738-5747. doi:10.1007/s00330-020-06896-5. Epub 2020 May 4. PMID: 32367419.
Bahadoram, S., Davoodi, M., Hassanzadeh, S., Bahadoram, M., Barahman, M., & Mafakher, L. (2022). Renal cell carcinoma: an overview of the epidemiology, diagnosis, and treatment. G Ital Nefrol, 39(3), 2022-vol3. PMID: 35819037.
Oliva, M. Raquel, Glickman, Jonathan N., Zou, Kelly H., Teo, Sze Y., Mortelé, Koenraad J., Rocha, Manoel S., & Silverman, Stuart G. (June 2009). "Renal Cell Carcinoma: T1 and T2 Signal Intensity Characteristics of Papillary and Clear Cell Types Correlated with Pathology." Genitourinary Imaging, Volume 192, Issue 6. Retrieved from https://doi.org/10.2214/AJR.08.1727
Oh, S., & Sung, D. J. (2016). Current MR Imaging of Renal Cell Carcinoma. J Korean Soc Radiol, 75(2), 77-91. https://doi.org/10.3348/jksr.2016.75.2.77
Patel NP, Lavengood RW. Renal cell carcinoma: natural history and results of treatment. J Urol. 1978 Jun;119(6):722-6. doi: 10.1016/s0022-5347(17)57611-9. PMID: 660755.