MRI Metastatic Spinal Cord Compression
Metastatic spinal cord compression (MSCC) is a serious condition that occurs when cancer cells spread to the vertebrae in the spine and cause compression on the spinal cord. This compression can lead to nerve damage and can be life-threatening or lead to permanent disability if not treated promptly.
Symptoms
The symptoms of MSCC may develop slowly over weeks or rapidly over hours or days, and can include:
Back or neck pain, often worsened by straining (such as coughing or sneezing), lying down, or at night.
Numbness, tingling, or weakness in the limbs.
Difficulty walking, which may lead to falls.
Changes in bladder or bowel function (incontinence or retention).
Paralysis or severe motor deficits in advanced cases.
These symptoms occur because of the pressure on the spinal cord and the nerves that come off it. Pain is usually the first symptom and may precede other neurological signs by weeks or months.
Diagnosis
When MSCC is suspected, a thorough clinical assessment is typically followed by an MRI scan to confirm the diagnosis and to ascertain the level of the spine that is affected. If MRI is not available or contraindicated, a CT scan may be used, possibly in combination with a myelogram.
Treatment
The treatment of MSCC is usually a multidisciplinary effort involving oncologists, radiologists, surgeons, and specialists in palliative care. Treatment may include:
Steroids: To quickly reduce inflammation and, possibly, to alleviate pain and other symptoms.
Surgery: If the patient's overall condition permits, surgery might be considered to remove the tumor, alleviate the pressure on the spinal cord, and stabilize the spine. This is often followed by additional therapy such as radiation.
Radiation therapy: This can shrink the tumor and is often the main treatment if surgery is not possible. It can also be used after surgery to treat residual cancer cells.
Chemotherapy: Depending on the type of primary cancer, chemotherapy may be used either before or after radiation therapy.
MRI Appearance of Metastatic Spinal Cord Compression
T2-Weighted Images:
Normal spinal cord tissue appears as a medium to low intensity (darker gray) on T1-weighted images.
Metastatic lesions often appear as areas of low signal intensity (darker) compared to the normal high signal intensity (brighter) of the surrounding vertebral bone marrow.
If there is spinal cord compression, the epidural mass (the tumor) can deform the thecal sac and compress the spinal cord, which may lose its normal cylindrical shape.
After the administration of gadolinium-based contrast agents, metastatic lesions often enhance, meaning they become brighter compared to non-enhanced images, which can help delineate the extent of the disease.
T2-Weighted Images
Normal spinal cord tissue appears as a higher signal intensity (brighter gray) on T2-weighted images.
Metastatic lesions can vary in appearance but may show as areas of high signal intensity due to edema or necrosis within the tumor or surrounding tissues.
The spinal cord, if compressed, may appear thinned or displaced.
A high-intensity signal within the cord itself (spinal cord edema or myelopathy) may be visible if the compression is causing significant spinal cord injury.
STIR  Images
The STIR sequence is particularly sensitive to changes in water content in tissues, making it useful for detecting edema.
Normal bone marrow is suppressed (appears dark) in STIR images, so lesions with increased water content, such as edema or tumor infiltration, will appear as high signal intensity areas (bright).
Metastatic lesions, which often cause bone marrow replacement and adjacent soft tissue edema, will stand out as bright against the dark background of suppressed normal marrow.
Compression of the spinal cord will also be evident, and any edema in the cord will appear bright
T2 TSE sagittal image shows Metastatic Spinal Cord Compression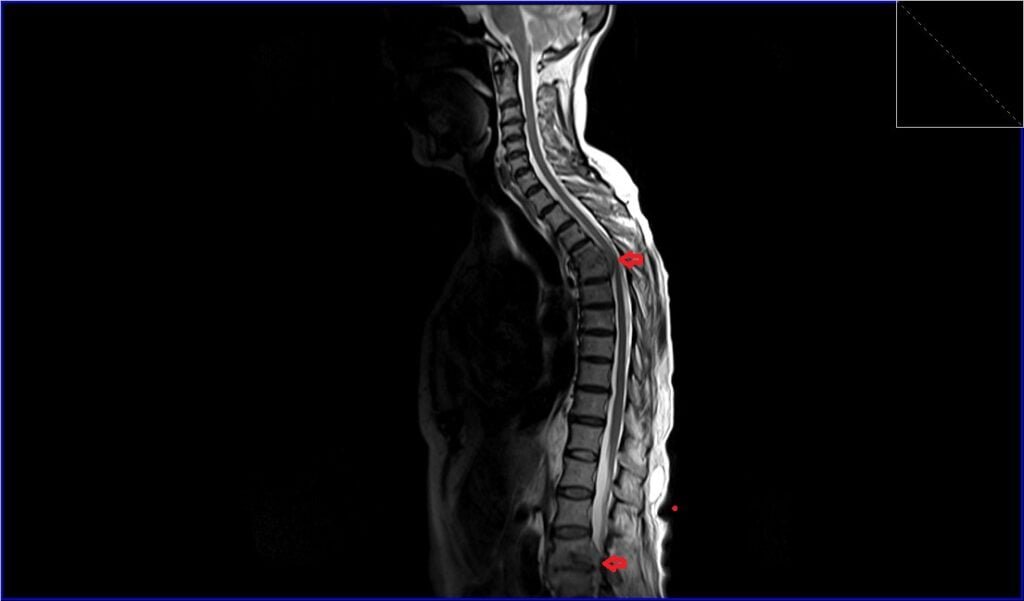 STIR sagittal image shows Metastatic Spinal Cord Compression
T1 TSE sagittal image shows Metastatic Spinal Cord Compression
T2 TSE axial image shows Metastatic Spinal Cord Compression
T1 TSE axial image shows Metastatic Spinal Cord Compression
Kuah, T., Vellayappan, B. A., Makmur, A., Nair, S., Song, J., Tan, J. H., Kumar, N., Quek, S. T., & Hallinan, J. T. P. D. (2022). State-of-the-Art Imaging Techniques in Metastatic Spinal Cord Compression. Cancers (Basel), 14(13), 3289. doi: 10.3390/cancers14133289.
Williams, M. P., Cherryman, G. R., & Husband, J. E. (1989). Magnetic resonance imaging in suspected metastatic spinal cord compression. Clinical Radiology, 40(3), 286-290. doi:10.1016/s0009-9260(89)80205-3. PMID: 2752687.
Carmody, R. F., Yang, P. J., Seeley, G. W., Seeger, J. F., Unger, E. C., & Johnson, J. E. (1989). Spinal cord compression due to metastatic disease: diagnosis with MR imaging versus myelography. Radiology, 173(1), 225-229. doi:10.1148/radiology.173.1.2675185.
Kuah, T., Vellayappan, B. A., Makmur, A., Nair, S., Song, J., Tan, J. H., … Hallinan, J. T. P. D. (2022). State-of-the-Art Imaging Techniques in Metastatic Spinal Cord Compression. Cancers (Basel), 14(13), 3289.
Robson, P. (2014). Metastatic spinal cord compression: a rare but important complication of cancer. Clin Med (Lond), 14(5), 542–545. doi: 10.7861/clinmedicine.14-5-542